Saline Symphony Orchestra 2018-2019 Season
The Saline Symphony Orchestra, now entering its 5th season, traditionally performs twice a year; once during the holiday season, and once in the spring, with other ensemble opportunities as they arise.

We will perform a holiday concert on Saturday, December 1, 2018, at 7 pm (Bryant Middle School Gym) and a spring concert on Saturday, April 27, 2019, at 7 pm.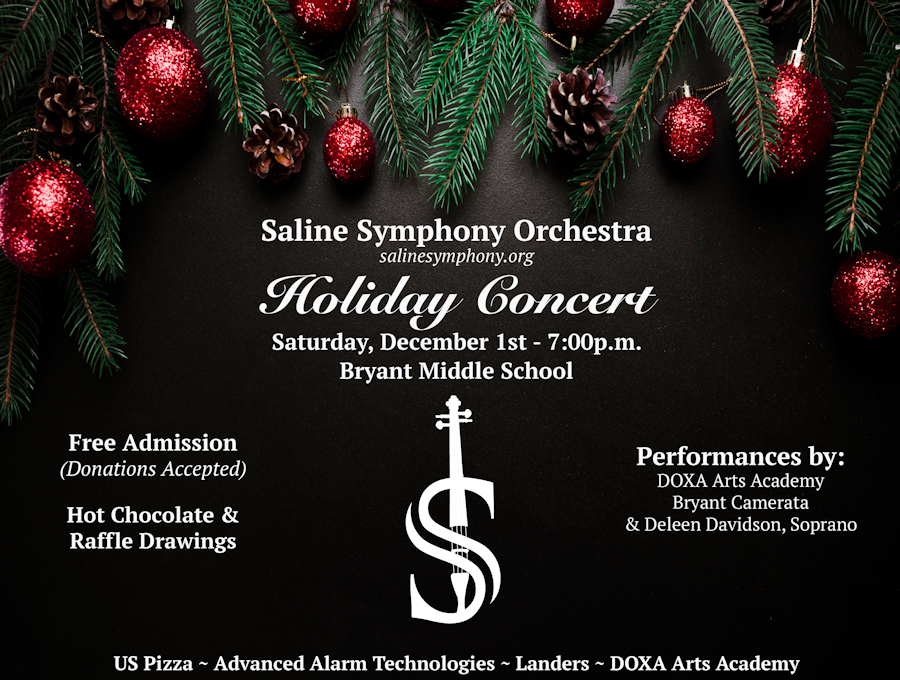 Rehearsal Schedule
Rehearsal dates are tentative. We rehearse on Sunday afternoons, alternating Sundays (except when working around holidays/breaks) from 3 to 5 pm.

August 19
September 2
September 16
September 30
October 14
October 28
November 11
November 25
Dress Rehearsal: November 30th 6-8pm
Concert: December 1st 7:00pm

January 13
January 27
February 10
February 24
March 10
March 24
April 7**
April 14**
Dress Rehearsal: April 26 6-8pm
Concert: April 27 7:00pm

**Back to back Sundays so as to avoid Easter on the 21st.

Interested in Joining the Orchestra?
he Saline Symphony Orchestra has been growing by leaps and bounds! The first semester of our 2018-19 season saw the orchestra grow to nearly 60 musicians.

Dimensions Fine Arts, Inc., the 501(c)3 nonprofit that oversees the SSO, has a mission of providing opportunities to area musicians, and the SSO helps fulfill that mission. We currently do not use an audition process; instead, we invite prospective members to join us to sit in on rehearsals and see if we're a good fit. We do expect prospective members to be proficient enough to play the music, and will review as we progress through the season. All rehearsals are held at one of the Bryant School District campus band rooms and will be announced at the beginning of each semester.

We welcome musicians who are returning to their love of music, regardless of age, as well as those who are music educators; our members represent a wide range of experience, and we believe in nurturing the love of music through a variety of support and methods. We also encourage high school and college musicians to join the orchestra.

We charge an annual fee of $20 per musician; this helps offset our costs of music and other items. Students are provided seats in the orchestra on a scholarship basis. T-shirts are available for an additional $15.

If you are a musician interested in joining the Orchestra and have at least an intermediate ability, please contact us at This email address is being protected from spambots. You need JavaScript enabled to view it. and include basic information about you, including the instrument(s) you play. We'll add you to our information list!